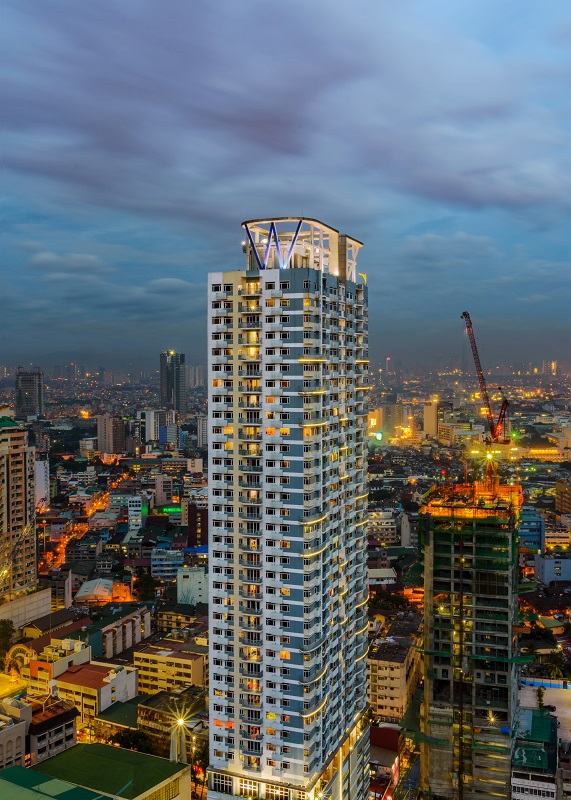 This 40-level building stands at the heart of Binondo, one of the most popular and established business districts in Metro Manila. The area offers a wide array of stores from small accessories to gadgets of different sorts.
The development is located at La Torre St. corner of Masangkay St. in Binondo, offering splendid views of Manila Bay, Manila Skyline, Rizal Park, Intramuros and the whole vicinity of Chinatown. This development has a towering height of 150.75 meters, covering 715.08 square meters of its 1,152.60-square meter lot and dedicating 40% of the total area for landscape to induce green spaces to the development.
The building is tilted to the east-west axis to prevent exposure to the sun's rays, allowing lowered energy consumption and cooling to incur to the building. A controlled and proportioned fenestration allows the building to breathe with the environment by allowing air and daylight to penetrate inside building spaces.
The balconies protruding on building façade and gliding around the corners cleverly contribute to well-shaded areas of the building and enhance grace to its design. Users are able to enjoy the outdoors with shaded corridors and the open access to splendid views from each unit. Moreover, the amenities level or the podium is streaked with clean white lines that surround the building façade to provide privacy and security for the Parksuites' residents, as well as a warm ambiance that comes from a significant amount of air and sunlight in the Parksuites' court. The latter part also contains locally grown plants and lushly designed paths that cover a solar reflectance value of 29 to reduce factors contributing to island heat effect.
ASYA has always been involved in beautifying every development from their design portfolio. The company takes every consideration from the developers, the contractors, the end users, the general public and the environment to develop a sustainable structure. ASYA does not only design spaces, but living and breathing spaces.